Land Under the Pole Star
By Helge Ingstad,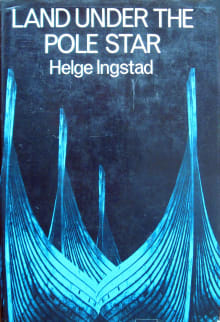 Recommended by Margaret Elphinstone
From Margaret's list on Northern Lands.
Why would I carry a one-kilo hardback around Greenland and Newfoundland on my back? Because Helge Ingstad was the archaeologist who discovered and excavated L'Anse Aux Meadowes, the first archaeological corroboration of Norse settlement in North America. Also because Land Under the Pole Star does the sort of sea exploration I have only dreamed about, following the Viking voyagers to Greenland and Vinland (wherever that was; personally I find Ingstad's theories convincing). Not too colonial or patriarchal for modern sensibilities, Ingstad's project is to relate the old Norse texts to what he finds on the ground. He's an acute, sympathetic observer of Greenlandic life. I couldn't have found a better guide, and if you like northern journeys with a scholarly purpose, this is the very book.
---