Jewelry: Concepts and Technology
By Oppi Untracht,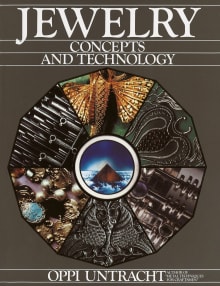 Why this book?
This is a book I have in my library because of its sheer virtuosity, and because it is such a mine of information about its subject. From what I gather, it took the author around a decade to write, and is applicable to the beginning jeweller, as well as to the seasoned diamond-cutter, or goldsmith. 
I like to have this book around, and reasonably close to me at all times, because it reminds me of what I ought to be. I sit my laptop on it, because the thickness of it (hardback, at over 800 pages) offers a comfortable height for my typing experience. Maybe one day - when I have the time, and the space - I will read it, from cover to cover, and digest it in all of its breathtaking detail. If, like me, you are a curious mix of art/chemistry/geology nerd, then this book is for you. You will also enjoy the study of different cultures.
---