The Great Explorers
By Samuel Eliot Morison,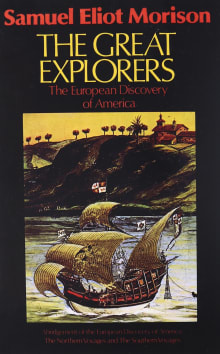 Recommended by Kevin J. Glynn
From Kevin's list on epic sea voyages filled with drama and conflict.
The Great Explorers: The European Discovery of America is a seminal non-fiction work by a premiere historian detailing those intrepid early explorers who dared uncharted seas for greed and glory. The work really resonates with me because it showcases how difficult it was to navigate the world's oceans in the days before electricity, reliable navigation aids, modern medicine, refrigeration, and dependable propulsion. Despite these handicaps, audacious seamen dared the unknown and challenged their resolve and endurance to meet their goals. I believe the inherent elements of drama and conflict in these voyages lend grist for the development of action and adventure-filled historical fiction. This book directly inspired me to develop my featured novel in an Age of Exploration setting.             
---