The Establishment of the European Hegemony, 1415-1715: Trade and Exploration in the Age of the Renaissance
By J.H. Parry,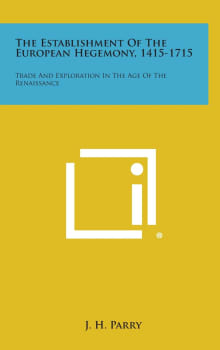 Why this book?
When I was first attracted to exploration history, I was mostly interested in the 19th and 20th centuries, but wanting to understand its pedigree, I searched back to the great voyages of the Renaissance and kept running into books by Parry. He's everywhere, and always insightful.
His most widely read book is The Age of Reconnaissance: Discovery, Exploration, and Settlement, 1450-1650. But despite its clunky title, Establishment is my favorite because it distills the whole story – its events, its technology, its intellectual foundations – into almost crystalline form. A wonderful place to begin, or to return to and consolidate whatever else you've learned.
---