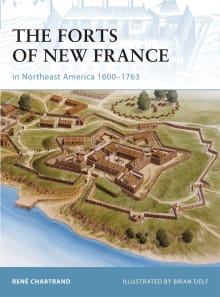 The Forts of New France in Northeast America 1600-1763
By René Chartrand
Why this book?
Some readers want to see history as well as read it. Thankfully, there are many books about the Seven Years' War that offer loads of illustrations, both from the era and produced more recently by illustrators. René Chartrand is the author of many such books, one of which is this one about the forts of New France. The author and illustrator present in-depth information about such French forts as Chambly, St. Frédéric (Crown Point), Carillon (Ticonderoga), Duquesne (Pittsburgh, PA), Ouiatenon (Quebec) and Vincennes (IN). As with all of Chartrand's books, this one enriches our understanding of the Seven Years' War,…
From the list:
The best books on the Seven Years' War in North America
When you buy a book we may earn a small commission.