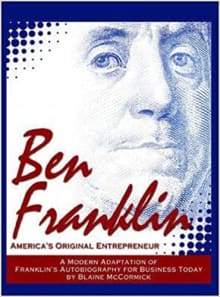 Ben Franklin: America's Original Entrepreneur
By Blaine McCormick
Why this book?
This book is an absolute blueprint from one of the world's most successful entrepreneurs. I could share hundreds of examples you could use daily, but one of my favorites is his creation of personal virtues that he practiced and tracked over and over until perfection. Success leaves clues, and Franklin gives a road map to how he went from printing assistant to founding father, inventor, businessman, and visionary.

From the list:
The best books on efficiency, mental strength, and business growth
When you buy a book we may earn a small commission.