Never Caught: The Washingtons' Relentless Pursuit of Their Runaway Slave, Ona Judge
By Erica Strong Dunbar,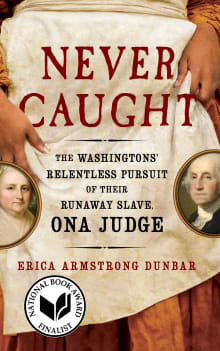 Why this book?
This best-selling book tells an important story about Black women's struggles for freedom and autonomy at the founding of the American nation. And tells it so well! One of my favorite things about this book is that the title is a bit misleading: this is not actually (another) book about the Washingtons.The book centers on Ona Judge, a woman who freed herself after the Revolution and forged a new life in the tumultuous world of the newly independent United States. Dramatic and suspenseful as her personal story is, this book also tells a bigger story about how it was enslaved people themselves who made the North free. Heartbreaking, heroic, dramatic, suspenseful, inspiring.
---