Tacky's Revolt
By Vincent Brown,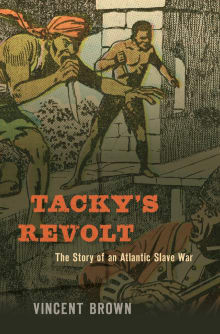 Recommended by Natalie Zacek
From Natalie's list on the English Caribbean.
Tacky's Revolt, a slave uprising in Jamaica in 1760-1, is not widely known outside the Caribbean, but Brown's book should change that situation. Written with great attention to the significance of physical spaces as well as historical sources, Tacky's Revolt provides insights into the lived experiences of enslaved people, and in particular how some drew upon their experiences as warriors in west African societies to stage a rebellion that aimed to overthrow plantation society. It depicts both the terrifying power and the surprising fragility of white authority in an island in which at this time 9 of 10 residents were of African descent, and nearly all of those were enslaved.
---