The Common Wind
By Julius S. Scott,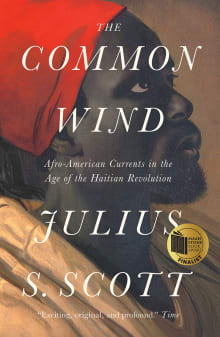 Book description
The Common Wind is a gripping and colorful account of the intercontinental networks that tied together the free and enslaved masses of the New World. Having delved deep into the gray obscurity of official eighteenth-century records in Spanish, English, and French, Julius S. Scott has written a powerful "history from…
Why read it?
2 authors picked The Common Wind as one of their favorite books. Why do they recommend it?
Christian Høgsbjerg
Taking as its title a line from the sonnet William Wordsworth wrote in 1802 in honour of the then imprisoned Toussaint Louverture, Julius S Scott's work – like that of Carolyn Fick – gives us a powerful sense of just how revolutionary the Haitian Revolution was. Focusing on how sailors, runaway slaves, soldiers, and others spread revolutionary ideas of the Radical Enlightenment across the Caribbean during the 1790s, Scott gives us another brilliant 'history from below', full of inspiring examples of internationalism. Leaders of other slave revolts across the Caribbean took on names like 'Toussaint', while even the English radical…
Sharika Crawford
The Common Wind is a fascinating history of how an array of people from runaway slaves to refugees from the American and French Revolutions formed a part of a clandestine communication network. This network was facilitated by inter-island commerce that disrupted and triggered "currents of revolution" like the slave rebellion turned revolution in late eighteenth Haiti. This work is a classic. It continues to inspire historians to think about mobility, information, and revolutionary change.