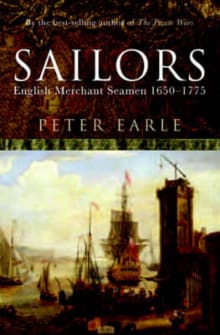 Recommended by Thomas M. Truxes
From Thomas' list on 18th century mariners.
Sailors — among my favorite books — is a vivid account of the lives of English merchant seamen in the 17th and 18th centuries. These were the years when England rose to dominance in global commerce and became the greatest naval power in the world. Acclaimed historian Peter Earle explores every aspect of the sailor's life: conditions of service, wealth and possessions, life aboard ship, the perils of the sea, discipline and punishment, sickness, desertion, mutiny and mortality, and the role of the sailor in times of war. Evocative, scholarly, and colorful, this story of England's "bravest and boldest" reveals how life on the waves was not all storms and conflict, tyranny and revolt, but also one of comradeship, adventure, and love of the sea.

---