Coral Empire
By Ann Elias,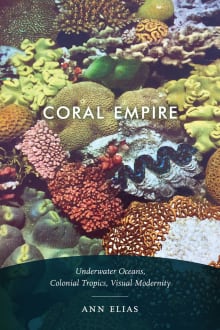 Recommended by Helen M. Rozwadowski
From Helen's list on human's relationships with the underwater world.
Ann Elias demonstrates how visual media – photography, film, art, and museum displays – re-cast coral reefs in the early 20th century from dangers to navigation into fantastical but familiar and inviting spectacles. Coral Empire reveals photographers, artists, and scientific explorers as they rendered the undersea modern yet colonial. Using technology, indigenous knowledge, and their own visions, they presented the oceans as wild, untouched spaces full of resources that invited exploitation, conquest, and tourism. Desire-fueled uses of the undersea obscured the destructive nature of human activities on coral reefs, now abundantly apparent, while the power of the visual for imagining and knowing the undersea remains.

---