The Murder Room
By P. D. James,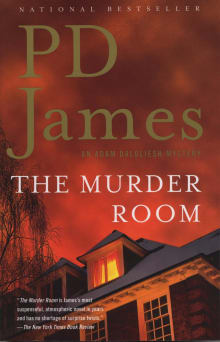 Recommended by Joanne Paulson
From Joanne's list on mystery in which you really want to hug the detective.
It is hard to resist a detective who is also a poet. Such wordy pursuits, mingled with crime detection, loudly declare sensitivity and left-brain-right-brain involvement, a perfect combination in the elegant, exceedingly attractive Adam Dalgliesh. (My own detective is named, in part, after him.)
All the Dalgliesh mysteries are marvelous. However, in The Murder Room, the detective's new relationship with Emma Lavenham comes to a critical point. As the description says, "as he moves closer and closer to a solution to the puzzle, he finds himself driven further and further from commitment to the woman he loves." The poor dear.
---