Museum of the Missing
By Simon Houpt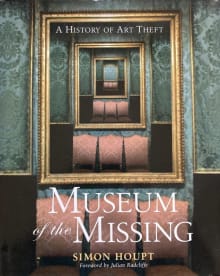 Why this book?
This book looks at thieves, liars, manipulators and of course the art itself. There's a section on damaged goods, which taps into one of my obsessions about the difference in time and effort creation versus destruction takes. 
It's full of pictures, ironic given that most of the pieces depicted are lost, never to be found. The Gallery of Missing Art is beautifully reproduced, and includes such masterpieces as Strindberg's "Night of Jealousy", so we can look at the works and marvel. But knowing that these pieces are…somewhere? Hidden away for a small audience, or perhaps destroyed? That's heart-breaking.  
---
When you buy a book we may earn a small commission.