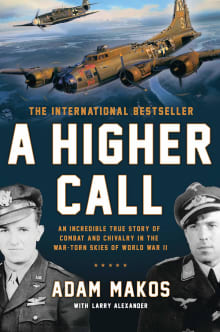 A Higher Call: An Incredible True Story of Combat and Chivalry in the War-Torn Skies of World War II
By Adam Makos, Larry Alexander
Why this book?
Pound-for-pound, this is perhaps the best military aviation book on the market today.  During the darkest days of World War II, A Higher Call tells the story of a seemingly-improbable act of gallantry in the skies over Europe.  A wounded and hardly-airworthy B-17 limps through the sky near the conclusion of its first mission. It is soon tailed by a Bf-109, the Luftwaffe's deadliest fighter. The Messerschmitt pilot could end the B-17 crewmen's lives with the pull of a trigger.  But what happens next will shock the reader.  

From the list:
The best books on military aviation
When you buy a book we may earn a small commission.