Underworld
By Mathieu Burniat,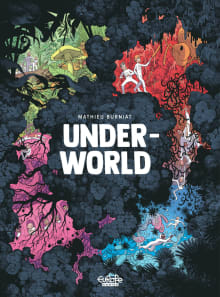 Recommended by Opal Edgar
From Opal's list on young adult set in the afterlife.
This must be one of the strangest works I have read in a long while, and I admire it deeply. It surfs on the documentary graphic novel trend. It exists to teach people about the disastrous impact of intensive farming on the environment, and more particularly on dirt. Not a very attractive topic, despite how serious it is – but, and that's where this comic is so innovative, it twists all this knowledge around a suspenseful battle royal orchestrated by Hades in the Underworld. Unlikely, isn't it? I loved discovering the facts while cheering on my main characters, two lost 16 years old, who struggle to survive in the underground. While it is directed at teens, I would recommend it to the above 16 only, as there is gore (this book follows the Hunger Games pattern of only one survivor) and nudity. 

---