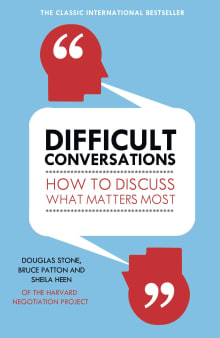 Difficult Conversations: How to Discuss What Matters Most
By Douglas Stone, Bruce Patton, Sheila Heen
Why this book?
We all have difficult conversations, both at home and in the workplace. You can try to defer them, you can't entirely avoid them, but you can definitely do better at them, and this book shows you how. Difficult Conversations cuts to the heart of many conflicts by forcing us to recognize how we add fuel to the fire, even if we didn't start it. But it doesn't just lay the problem at your feet and leave you feeling guilty and unsatisfied, it gives you a roadmap to having more productive conversations about hard stuff.
From the list:
The best books for negotiations that really matter
When you buy a book we may earn a small commission.