The Warmth of the Heart Prevents Your Body from Rusting: A French Recipe for a Long Life, Well-Lived
By Marie De Hennezel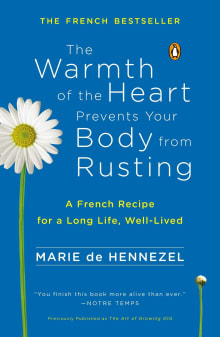 Why this book?
Many books in my personal live-long-live-well library are about the physical element of healthy aging – basically: just keep moving. But healthy aging is just as much from the neck up from the neck down. As this one proves.
Marie de Hennezel is a French palliative-care psychologist …and this book excavates "the inexplicable, incomprehensible force that keeps human beings alive..." The psyche ripens as the body diminishes, and a keen new sensual perception blooms. Takeaway: "To an 80-year-old, a child's smile has more currency than a three-course banquet does to a 40-year-old..."
---
When you buy a book we may earn a small commission.