Virtual Therapy: Prevention and Treatment of Psychiatric Conditions by Immersion in Virtual Reality Environments
By Ralph Lamson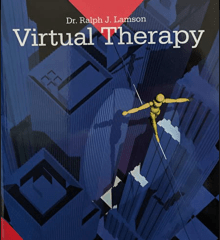 Why this book?
This book is the best classic in its category. Readers follow the first use of virtual reality therapy in healthcare. It captured the attention of Dennis Hancock (1995), a pioneer in the development of virtual reality systems for NASA's Costar mission to repair the Hubble Space Telescope, encouraging software engineers to develop affordable virtual reality solutions to real-world problems.
"Choose an application that solves a real problem and execute it well. Witness the work of Dr. Ralph Lamson…who treats vertigo patients with an affordable, effective VR solution. Dr. Kim Bullock, Clinical Professor, and Director, Virtual Reality-Immersive Technology (VR-IT) Clinic & Laboratory, Stanford School of Medicine, Department of Psychiatry & Behavioral Sciences, Diplomat, Psychiatry, ABPN, supervises psychiatry residents in the required reading of Dr. Lamson's Virtual Therapy.

---
When you buy a book we may earn a small commission.