The New Zealand Wars | Ngā Pakanga o Aotearoa
By Vincent O'Malley,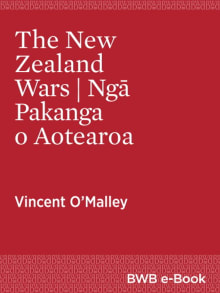 Recommended by Kristyn Harman
From Kristyn's list on the Frontier Wars fought downunder.
Just a few years after New Zealand became a British crown colony, armed conflict broke out in 1845 between representatives of the crown and local Māori. These frontier wars continued to be fought, particularly across New Zealand's North Island, up until 1872. Understanding New Zealand in the present requires gaining an understanding of the New Zealand Wars. Vincent O'Malley's book provides an insightful introduction to these complex conflicts. He explores in some detail what caused these conflicts, where and how the various battles that make up the wars were fought, and who might rightfully claim the various victories involved. O'Malley also usefully examines the consequences flowing from the New Zealand Wars. His book is richly illustrated with many evocative full color and black and white images depicting key participants, places, and moments in the New Zealand Wars.

---