The Quantum Thief
By Hannu Rajaniemi,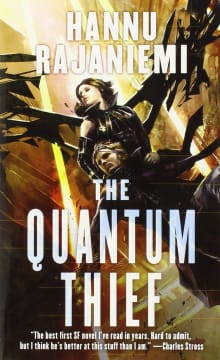 Recommended by Theodore Irvin Silar
From Theodore's list on literary science fiction with style and is well plotted.
It is a truism that Science Fiction dates itself. SF stories that were written only a few years previous often fail to foresee technological innovations ̶ cell phones, GPS, gene-splicing ̶ that seem obvious and inevitable to hindsight-blessed present-day readers. Those disconcerted by such, let us call them "backwards anachronisms," should find
Quantum Thief
a welcome relief for decades to come, because the novel is set so far in the future that hi-tech things like, say, cell phones seem quaint curios out of far-distant days of yore. Long-distance communications in
Quantum Thief
are effected by something more like telepathy (although the word is never used).
"Quantum" is the operative term in this novel, make no mistake.
Be forewarned: Quantum Thief is chock-full of coined terminology. But have no fear. You have a choice. Either use the online glossary - or you can just read for the story and absorb the…
---