Don't Give Up
By Kyle Idleman,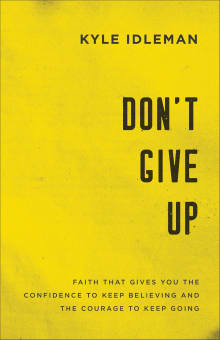 Recommended by Jill Eileen Smith
From Jill's list on prodigals, prayer, forgiveness, and never giving up.
It's far too tempting when we go through rough patches in our lives to want to give up. When we long for something and pray for years and still wait, quitting sounds like the best option. I nearly quit writing after twenty years of trying to break into publishing because I didn't think I could take any more rejection. 
In this book, Idleman points out that some people come to Jesus expecting Him to make life easier. But life is hard. Idleman says, "One way we know we're running the race marked out for us is the presence of regular, unexpected challenges." 
Joseph could relate to that all his life. I can too.
---