Birth of Intelligence: From RNA to Artificial Intelligence
By Daeyeol Lee,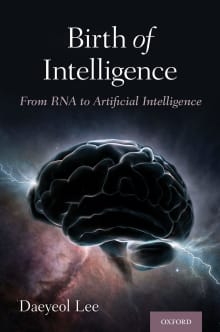 Why this book?
If flavorful food has been a critical element in the evolution of our large brains, how did large brains give rise to our high intelligence?  This is to be found in the circuits of our cerebral cortex and the regions to which it is connected. Daeyeol Lee is one of the leaders in research on how the cerebral cortex generates behavior in monkeys, for its insights into how this occurs in humans.  This is providing new ways to define the neural basis of intelligence based on the application of new single-cell recording techniques in primates and brain scanning techniques in humans.  
With his approach based on a deep understanding of how primates gave rise to humans, Lee asks the critical questions: What is intelligence? How did it evolve from monkeys to humans? Can computers and artificial intelligence ever equal human biological intelligence in all its complexity?   Based on Lee's research on the biological and computational underpinnings of decision making and intelligent behaviors, Birth of Intelligence proposes that true intelligence requires the living brain in its living organism, one of the basic issues at stake in the brain vs AI debate.

---