The Developing Mind: How Relationships and the Brain Interact to Shape Who We Are
By Daniel J. Siegel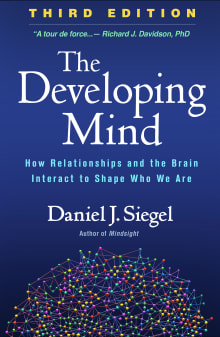 Why this book?
I am a great admirer of Dr. Siegel who is a clinical professor of psychiatry at the UCLA School of Medicine. This is a terrific book in which Siegel explores the role of interpersonal relationships in forging key connections in the brain. As he says, "Human connections shape neural connections, and each contributes to mind. Relationships and your personal linkages together shape the mind. It is more than the sum of its parts; this is the essence of emergence." His description of brain architecture is excellent
Siegel's emphasis on relationships is important and I fully agree with it. His take on the mind is interesting. He says, "The mind is a process that emerges from the distributed nervous system extended throughout the entire body and also from the communication patterns that occur within relationships." I echo those sentiments in The Embodied Mind when I say that the mind is more than the brain. Where I differ from Siegel is in suggesting that at the present the most scientifically supported evidence points to the mind as being a hybrid operating reversibly between quantum and classical realms.
---
When you buy a book we may earn a small commission.