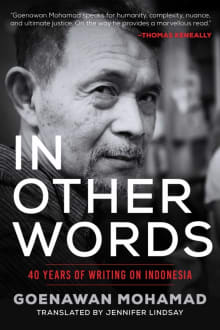 In Other Words: 40 Years of Writing on Indonesia
By Goenawan Mohamad, Jennifer Lindsay
Why this book?
Open this treasure chest! A perceptive, elegant collection by SE Asia's leading journalist, public intellectual, and poet. His magnus opus represents 40 years of essays from 1968 – 2014 and each of his 100 brief passages can stand alone as sledgehammers of provocative thought. Often called the Borges of Asia, Goenawan's dexterous mind tackles issues of identity, literature, nationalism, culture, colonial crimes, terrorism, Islam, mythologies, historicity, and destiny. As he grapples with universal themes, his deep wisdom offers fascinating insights and compassion into questions that concern us all.
From the list:
The best books of counter history to enrich your world view
When you buy a book we may earn a small commission.