Moral Origins
By Christopher Boehm,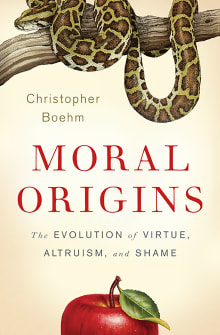 Recommended by Russell K. Schutt
From Russell's list on social evolution, social neuroscience, and social connection.
For almost four centuries, many philosophers, politicians, and social scientists have considered Thomas Hobbes as having provided great insight into human nature with his "thought experiment" imagining the state of nature as a state of war.  After more than one century, Darwin's contrary insight in The Descent of Man (1877:125) is finally being given the attention it deserves: the "social instinct" is a more powerful influence on human behavior than "the base principal of selfishness."  In Moral Origins, one of the best books in this genre, cultural anthropologist Christopher Boehm argues that higher levels of group support increased the survival of hunter gatherer bands and so favored evolution of more altruistic individuals.  Group culture that included gossip, expulsion and other forms of collective social control became ubiquitous as means to suppress free riders and egoistic bullies in human societies.

---