Strange World
By Frank Edwards,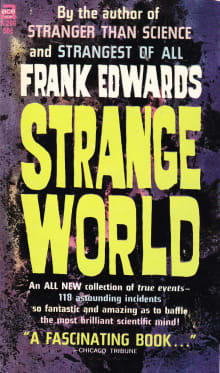 Recommended by Andy Kaiser
From Andy's list on dark altered realities and other creepy places.
Strange World is a collection of short stories (and many are very short). They expand on the title, the stories being recollections, reports, and (I'm fairly sure) completely made-up weirdness from around the country and world. Everything from strange coincidences to the absurdly fantastic, are all presented as matter-of-fact. This is perfectly in line with the publication date of 1964. Then, America was fully invested in the UFO craze, tinged with metaphysics and the occult. The stores are a time capsule of this cultural view and – whether or not you believe the stories are true – are a fun read.
---