The Elusive Science: Origins of Experimental Psychical Research
By Seymour Mauskopf, Michael McVaugh,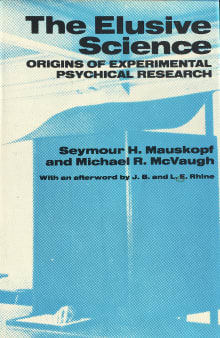 Why this book?
This book being out-of-print represents one of the great gaps in the historical catalogue of modern science. Mauskopf and McVaugh present a rare and invaluable survey of ESP research as a scholarly field from its inception in the late 19th century to its emergence as a recognized academic science in the 1930s thanks largely to the efforts of Duke University researchers JB and Louisa Rhine. It is difficult to overstate the integrity and meticulousness that the Rhines brought to the field. Polemical skeptics often misrepresent or misreport the Rhines' work and that of other parapsychologists—a problem of near-crisis proportions on Wikipedia—and The Elusive Science provides an uncommonly clear and deeply researched corrective. I hope that an enterprising publisher restores it to print. 
---