On a Beam of Light
By Jennifer Berne, Vladimir Radunsky (illustrator),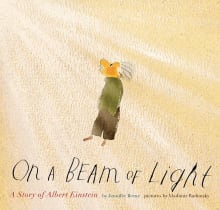 Recommended by Andi Diehn
From Andi's list on children's books about physics.
You can't talk physics without talking Einstein! This beautiful book explores Einstein's curiosity and drive to know more, which began when he was young. His journey from nonverbal child to brilliant scientist is fascinating and inspiring for all kinds of readers.

---