Guilty Pleasures: An Anita Blake, Vampire Hunter Novel
By Laurell K. Hamilton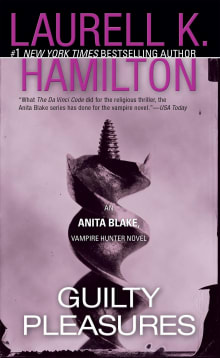 Why this book?
Unlike many authors I know, my reading picked up when I was a teenager. I grew up in Ukraine, in a town where the library wasn't close to us. My mother couldn't afford to buy books for my sister and me as gifts because the country struggled greatly after the fall of the Soviet Union. Most of our school books were free. They were hand-me-downs from previous students. I still remember having to mend a lot of the pages and spines to be able to use most of my books. When I moved to Ireland to join my parents after three years of separation, I had to learn English. This drastic change in my environment and lifestyle eventually led me to reading to escape the difficulties I faced at the time. 
Guilty Pleasures is the book that got me into the genre of Urban Fantasy. It has many charms; among them are a fun mystery, fantastic characters that pull you in, and a storyline that had my nose stuck to the book from page one to the very end. I'm sure I finished reading that novel within a day and kept on reading the books that were available at the time.

---
When you buy a book we may earn a small commission.