Art & Max
By David Wiesner,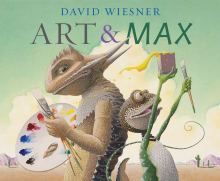 Recommended by Dorothia Rohner
From Dorothia's list on children's books with nature, whimsy, and humor.
Art and Max is one of my favorite picture books because it contains humor, knowledge, great characters, and imagination. David Weisner is a master at capturing expression and pushing the limits of the imagination to amuse and surprise the reader. Art is a serious artist reptile, Max is an overexcited literal lizard that wants to learn to paint. He is a serious annoyance to Art. When Art finally agrees to let him paint, confusion on what to paint explodes into a mess. Each art mishap resembles famous artist styles and techniques. It's a funny, clever, and imaginative book that both children and adults enjoy.
---