Social
By Matthew D. Lieberman,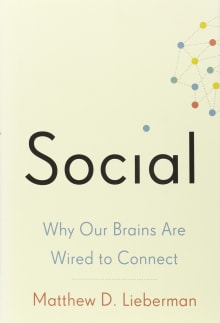 Recommended by Russell K. Schutt
From Russell's list on social evolution, social neuroscience, and social connection.
"The bad news is that as a society we're blowing it." Not because the GDP isn't high enough, distinguished psychologist Matthew Lieberman argues, but because we don't understand basic facts about our social brains: (1) Physical and social pain share the same neurocognitive processes, as do responses to physical and social rewards; (2) Our ability (and proclivity) to mentalize—to understand others' actions as driven by their thoughts—relies on and competes with a different neural system than nonsocial thinking; (3) Our sense of self is a Trojan horse transmitting social influence and so harmonizing behavior in groups.  As a result, improving our social relations—not increasing our financial wealth—makes us happier; maximizing social capital increases our productivity at work; and engaging our social brains improves our learning. If that gets your attention, you're ready to read Social. 

---