On Gratitude
By Todd Aaron Jensen,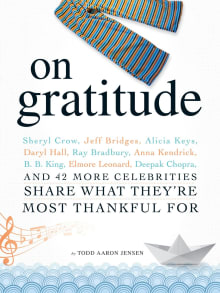 Recommended by Ivan Nossa
From Ivan's list on the power of gratitude.
This is a star-filled book where each celebrity shares what they are most thankful for. Among others, you can find stories by Alicia Keys, Jeff Bridges, Sheryl Crow, B.B. King, Francis Ford Coppola, Dave Grohl, Stan Lee, Forest Whitaker, Ringo Star, and many many more. I have found this reading very profound as you can see the humble side of these celebrities and how they are thankful for all the gifts they received along the way. Every story is different and some are really intriguing but the common point is they do not forget to be grateful and that is the main message they leave in the heart of readers.
---