Beyond Behaviors
By Mona Delahooke,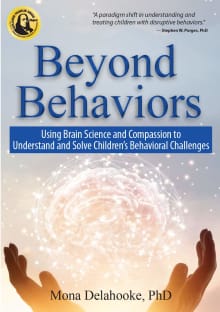 Recommended by Dona J. Matthews
From Dona's list on loving and raising challenging kids.
In Beyond Behaviors, Mona Delahooke makes a clear, strong case for parents' self-compassion and for parents' compassionate responses to their children's "bad" behavior. Using solid brain science evidence and case histories from her decades of working with very challenging kids, Dr. Delahooke illustrates that children begin to thrive when they feel understood—not judged, not punished—when they lose control. The reader comes to see that misbehavior is a precious clue to a child's troubled inner reality. A parent's impatience, irritation, annoyance, or anxiety not only exacerbates the problem, increasing the child's suffering, but is also a sad, wasted chance at providing the sense of security the child needs, which is a necessary first step on the road to doing better. 
---