The Teddy Bears' Picnic
By Jimmy Kennedy, Alexandra Day (illustrator),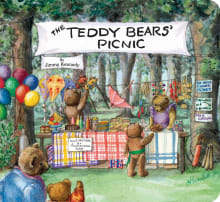 Recommended by Jill Ballou
From Jill's list on celebrating cultural diversity for young children.
As a child, I sang along with the song of the same title; the thought of picnicking teddy bears was totally enchanting! This book brings the haunting song to life with luminescent watercolor illustrations depicting fun-loving bear families in the mysterious woods. When I discovered this book I bought it immediately for my preschool daughter.  Reading the story we both wanted to be part of it! The day ends as it should for bear children, making it the perfect 'before bedtime' read for human ones.  
---