Make Way for Ducklings
By Robert McCloskey,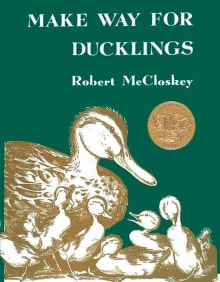 Why this book?
I love stories where animals are the main characters and kids do, too! Robert McCloskey's tale about Mr. and Mrs. Duck taking their ducklings across Boston to the pond in the public garden is sometimes harrowing, entertaining, and always charming. Published in 1941, it is a  classic in children's literature that simply doesn't grow old, by one of my favorite children's authors. I remember Captain Kangaroo reading the book on TV to me, I read it to my preschoolers, and naturally to my own kids...more than once! 

---