Hands Around the Library
By Karen Leggett Abouraya, Susan L. Roth (illustrator),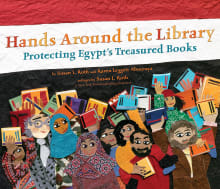 Recommended by Christy Mihaly
From Christy's list on children's books for human rights and civic engagement.
This is a wonderful, uplifting story that provides a springboard for conversations about how governments don't all give their people the same rights. It showcases an incident during the pro-democracy demonstrations of the Arab Spring of 2011 in Egypt. As a bonus, this book also celebrates the tremendous value of libraries. It tells the stirring (and true) tale of people of all stripes joining hands to defend the great library of Alexandria against possible damage during the unrest.
As with the other recommended books, children are a key part of the story's action. The narration is kid-friendly and engaging and the collage-style illustrations are bright and bouyant. Finally, the back matter will intrigue readers with photographs of the library's light-filled interiors, as well as photos of the dramatic defense of the library during the demonstrations.
---