Grape Expectations: A Family's Vineyard Adventure in France
By Caro Feely,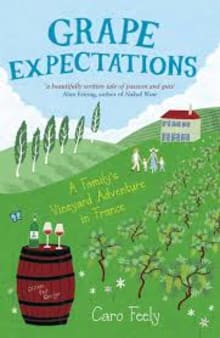 Why this book?
Enjoying wine is second nature here in France. But what does it take to produce a perfect vintage? This no-frills memoir gave me the answers. 
An Irish couple moves to the Dordogne. Realising their dream, they buy a vineyard in financial trouble only to find that they have taken on more than they realised. And it's tough on them all. Caro takes the reader on a detailed journey, describing the challenges of renovating their dilapidated farmhouse whilst learning to become wine-makers. 
I was fascinated by the gritty realities and hard work needed to make their vineyard a going concern. I was also hugely impressed. I suspect that many others in a similar situation would have given up. Amazingly, they continue whilst bringing up their young daughters and integrating into their local community. I was engrossed throughout.
---