Twelve Who Ruled: The Year of Terror in the French Revolution
By R.R. Palmer,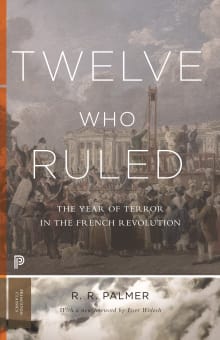 Why this book?
There is a reason why this book, published during the darkest days of World War Two, is still in print eighty years later. It is a profound study, deeply informed by Palmer's own experience of living through a time of war, crisis, and fear. It focuses on the twelve men who served on the Committee of Public Safety and together played a leading role in revolutionary government throughout the critical period of the Year II (1793-94).
This was the first book I ever read on the period of existential crisis known as 'the Terror', and it helped me make sense of what was happening and why. If you want to know what it was like to be leading a government during war and revolution. Palmer's book is the place to start. Forty years since I read it, Palmer's book still occupies a prime place on my bookshelf.
---