Twelve Who Ruled
By R.R. Palmer,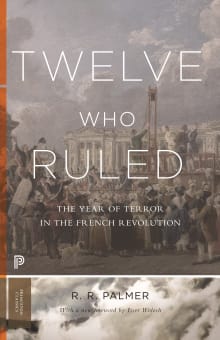 Book description
The Reign of Terror continues to fascinate scholars as one of the bloodiest periods in French history, when the Committee of Public Safety strove to defend the first Republic from its many enemies, creating a climate of fear and suspicion in revolutionary France. R. R. Palmer's fascinating narrative follows the…
Shepherd is reader supported. We may earn an affiliate commission when you buy through links on our website. (learn more)
Why read it?
3 authors picked Twelve Who Ruled as one of their favorite books. Why do they recommend it?
Marisa Linton
There is a reason why this book, published during the darkest days of World War Two, is still in print eighty years later. It is a profound study, deeply informed by Palmer's own experience of living through a time of war, crisis, and fear. It focuses on the twelve men who served on the Committee of Public Safety and together played a leading role in revolutionary government throughout the critical period of the Year II (1793-94).
This was the first book I ever read on the period of existential crisis known as 'the Terror', and it helped me make sense…
Peter McPhee
Palmer's classic study was written during the darkest days of World War II; it has been in print ever since. The uncertainties of his own circumstances in 1941 gave him an insight into the military crisis and fears of the French revolutionaries who in mid-1793 created a twelve-man Committee of Public Safety to take the emergency measures to save the Revolution and the nation. What from other perspectives has seemed a spiral into "terror" and repression was also for Palmer a series of desperate steps necessary for survival. His mixture of narrative and collective biography remains an engrossing account of…
Jeremy D. Popkin
The most troubling aspect of the French Revolution, for those who identify with its ideals of liberty and equality, is the way a movement for freedom turned into a revolutionary dictatorship that foreshadowed modern totalitarian regimes. American historian R. R. Palmer's clear and readable account explains the extraordinary circumstances that led to the Terror and why this episode should not discredit the principles of democracy.