The 500 Hats of Bartholomew Cubbins
By Dr. Seuss,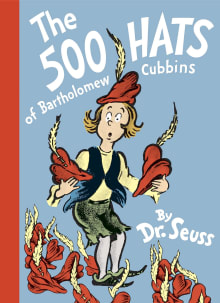 Why this book?
I was captivated by this picture book. The first two illustrations I have never forgotten: Bartholomew living at the bottom of a hill looks up at King Derwin's Castle at the top of the hill -- a mighty view, and it makes Bartholomew feel mighty small. King Derwin in his castle looks down at Bartholomew sees the houses down below: a mighty view, that makes King Derwin feel mighty important. Bartholomew is told to obey a stupid rule made by the King which leads to surprising consequences.
I learned from this story about the difference between riches and poverty, and the power that riches bring. Later I realised that King Derwin was a Dictator.
---