This Republic of Suffering: Death and the American Civil War
By Drew Gilpin Faust,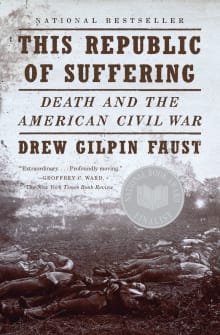 Why this book?
This Republic of Suffering is a highly readable book that vividly describes the scale of death in the American Civil War and the impact that mass collective and personal grief had upon a young nation. This is not only among the best works on war that I have read, but also one of the best cultural histories. The prose is beautiful and the work is impeccably researched and incorporates the voices of those who witnessed and suffered – soldiers, wives, and mothers, doctors and nurses. My own interest in war stems from its impact on society, culture, and individuals, and this book covers these topics through the lens of mass death, collective grief, and the struggle for a nation to find meaningful ways to memorialize a civil war and its fallen. This work is highly impactful and frankly, I wish I wrote it.

---