The Conscience Code
By G. Richard Shell,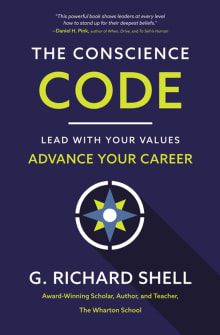 Recommended by Carrie J. Menkel-Meadow
From Carrie's list on ethical negotiators.
Drawing on years of business school teaching and research and leading negotiation trainings in many countries, Shell provides an important guide for people to stand up for their values in business, law, and complex work situations. Real-world stories put flesh on the bones of outlines of both philosophical and political approaches to difficult choices in career and workplace negotiations. This book can assist any negotiator in figuring out what is really important to them (and their clients and organizations) and then how to actualize behaviors that make principled change happen. This book also provides great advice about when to walk away from the negotiation table or a particular task or job because higher values call.

---