The Dogs of Babel
By Carolyn Parkhurst,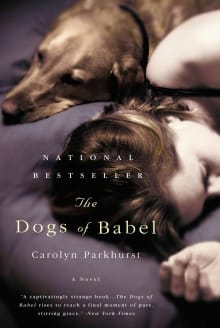 Why this book?
You want heartwarming books about man's best friend? You've come to the wrong place. Novels with dogs don't have to be heart-warming. They can be quite strange, sinister or both.
Here's a prime example: The Dogs of Babel, which starts as the heartbroken narrator discovers his artsy, Goth wife has fallen from a tree and died. There are plenty of clues that this was not an accident. But there are no witnesses, except for poor Lorelei the dog. What starts out as a heartbreaking account of grief then takes a sharp turn into the bizarre as the narrator tries to teach Lorelei to speak so he can reconstruct his wife's last hours. It descends into a seething underground, complete with people operating on dogs' vocal chords to make them speak. Have I mentioned my list isn't heartwarming? Did I swipe elements of this novel for my book? You bet I did.  
---