Universe
By Dorling Kindersley,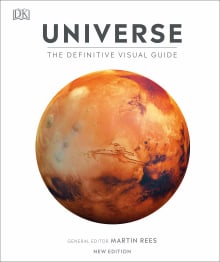 Recommended by Ian Ridpath
From Ian's list on that have inspired my writings on astronomy and space.
I love books full of facts and figures, and for astronomers, this is one of the best. Now in its fourth edition (the first appeared in 2005), Universe (subtitled The Definitive Visual Guide) harnesses a team of expert writers with Dorling Kindersley's designers, editors, and researchers to produce a sumptuously illustrated review of the Universe from the Earth to the Big Bang, including extensive sections on the night sky and how to view it. Dorling Kindersley's books are natural successors to the great Reader's Digest reference books of my childhood. If you want an encyclopedia of the Universe, this is the one to have.
---