Barn 8
By Deb Olin Unferth,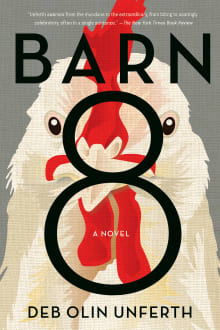 Recommended by Midge Raymond
From Midge's list on saving animals.
What I love about Barn 8 is that it focuses as much, if not more, on the animals as on their human rescuers. The novel's portrayal of chickens—their history, heritage, tortured present, and imagined future—is a celebration of them as individual beings rather than merely egg makers ("Chickens gossip, summon, play, flirt, teach, warn, mourn, fight, praise, and promise"). And, along with the chicken characters—including the individual bird that inspired the rescue—the human characters are engaging and relatable, with their own complex stories. The myriad points of view (including interview-style chapters) keep the pages turning in a novel that is both edifying and inspiring.

---