I Will Have Vengeance
By Maurizio de Giovanni, Anne Milano Appel (translator),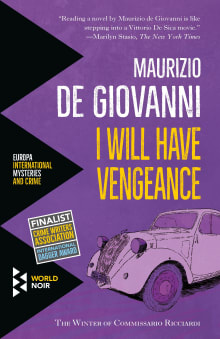 Recommended by Joseph D'Agnese
From Joseph's list on discovering Italian mystery novels.
Can a mystery novel have supernatural elements and still be considered a mystery? I obsessed on this question when I was writing my book. (You'll know why if you check it out.) Then, out of the blue, I stumbled across de Giovanni's astonishing novels. His detective, Commissario Ricciardi, suffers from a bizarre affliction. He sees dead people. Specifically, he sees visions of murder victims just before their death. Naturally, this makes him the greatest cop ever, and the most tortured. If you can stand to read a little on the wild side, you will enjoy these historical mysteries, set in 1930s Naples. Currently 10 books in the series.

---