Baby Bomb
By Kara Hoppe, Stan Tatkin,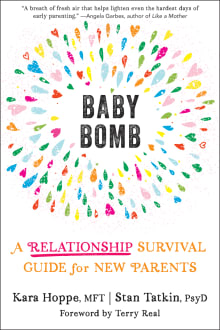 Recommended by Stephanie Dueger
From Stephanie's list on to feel more prepared for parenthood.
Attachment theory – the theory that humans need to form a close emotional bond with a caregiver early in life to survive and thrive – is near and dear to my heart as a therapist and coach for expectant and new parents. Tatkin is a master of human attachment in adult relationships, having created the PACT (psychobiological approach to couple therapy) training for therapists. The book, written with Hoppe, uses the science behind attachment theory to help couples strengthen their relationship and meet each other's needs as a couple in order to be the best parents they can be. It offers tried and true ways to nurture your couple bond so you can not only be present for your baby, but also for each other.
---