The Magus
By John Fowles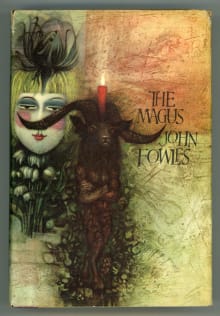 Why this book?
At the time I read this book I was a fan of old sci-fi and some historical fiction. The Magus was recommended to me and, honestly, I didn't think I'd like it. It wasn't 'my genre'. Then I started reading it and knew I was right – it was quite boring. But I read on and it really started to suck me in. A story about a young teacher being manipulated on an isolated Greek island by an older gentleman and a colourful cast of strange characters, the writing is just magical and evocative and the story is like nothing I've read before or since. When the end came I was genuinely bereft – I didn't want it to end the way it did and I was quite upset by it. These were emotions I had never felt before when reading a book and it shocked me!

I read it again ten years later and loved it in a completely new way. It's such a rich, powerful book that has a lot to teach us about how to live. And the ending? I realised it was the perfect, indeed ONLY way it could have finished, and it inspired me to let my own readers use their imaginations to fill in the blanks at times, particularly with my novel Lucia.

---
When you buy a book we may earn a small commission.