Passion
By Jude Morgan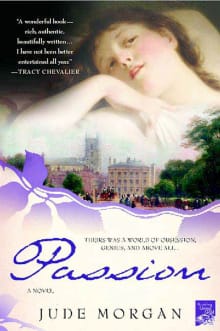 Why this book?
Passion features major artists and poets from a long-past yet oddly familiar period: the late 18th and early 19th centuries, a time in some ways like our 1960s and 70s: free love, revolutionary acts, creative and sexual freedom, and advances in art, science, politics, and literature. The novel stars riveting, romantic, larger-than-life literary figures: Mary Wollstonecraft, Lord Byron, Percy Shelley, Mary Shelley, Lady Caroline Lamb, and Augusta Byron. Why can't I time travel and inhabit such bygone eras – for a while, anyhow! But a good historical novel is the next best thing.
If it's full of intrigue, romance, fantastic settings, and the occasional steamy encounter in which characters shed cool-sounding period clothing, even better...plus, the author's uncanny ability to convincingly inhabit the minds of these exciting people, in first-person voice, was impressive. Highest accolade: by story's end I wished I'd written it myself!  
---
When you buy a book we may earn a small commission.