Yoga Mind, Body & Spirit
By Donna Farhi,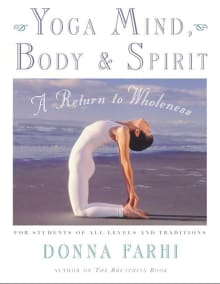 Recommended by Kara-Leah Grant
From Kara-Leah's list on support your home yoga practice.
An American now living in New Zealand, Donna strongly emphasises inquiring your way into your yoga practice. She invites the readers to ask many questions that other teachers don't even mention – like why practice asana at all?
This book starts where all yoga starts – with the breath. Donna explores letting the breath move you and guiding the breath. From there, it's a steady step-by-step look at the foundation of any good yoga practice. She invites readers to look at yielding, radiating, centering, supporting, and aligning within their practice. It's such a delicious way to explore yoga. 
The book also includes an in-depth look into the various systems of the body and how these function within asana. Donna examines the cellular body, the musculoskeletal system, the fluid body, the organ system, and the neuroendocrine system - and all this before she illuminates the asanas themselves. This book will expand…
---